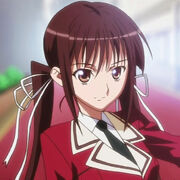 The daughter of the Hōjōin family whose company are rivals to Arima. She dislikes Teppei when he first arrives at Shūhō Academy. She is the 'Club Representative' of the 'Society Club' and reserves the right to enroll in the club only those students whom she thinks have what it takes to be eligible for membership of the school's most extravagance club. Outside school, she is a very popular model and one of the most gifted young fashion designers in all of Japan. Despite her resistance, she falls in love with Teppei due to his tenacious nature. Seika has a loud and brutal nature. However, she is uncertain how Teppei will react and is mostly quiet about it.
Height: 156cm (5'1 1/2 or 5'2)
B.W.H: B78 W56 H83
Ad blocker interference detected!
Wikia is a free-to-use site that makes money from advertising. We have a modified experience for viewers using ad blockers

Wikia is not accessible if you've made further modifications. Remove the custom ad blocker rule(s) and the page will load as expected.